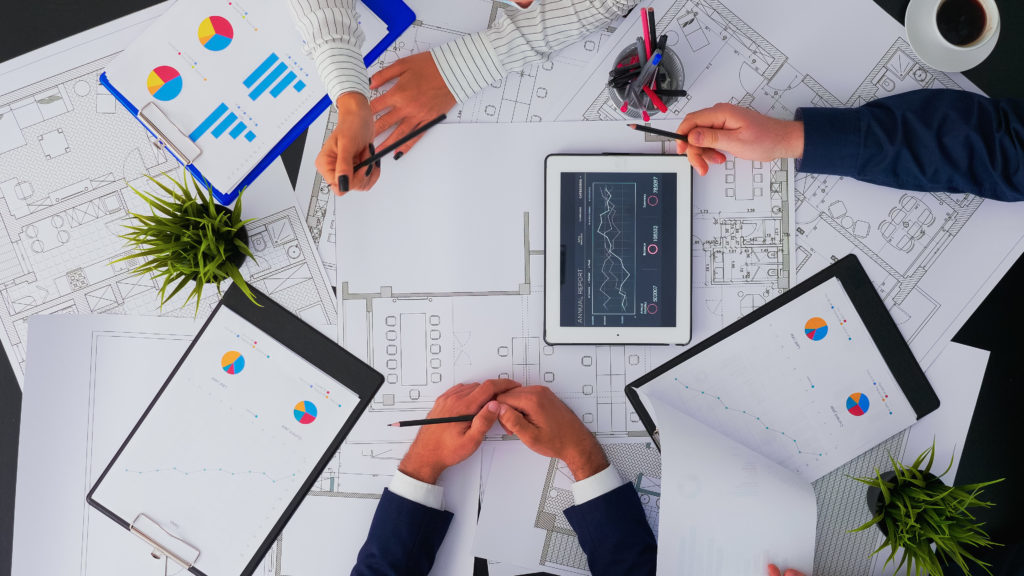 No matter what industry you look at, mobile applications are becoming an increasingly popular solution for many problems businesses face. They are also being used to help ease processes that previously were time-consuming and complicated. Not only do mobile applications help with the smooth running of many businesses these days, but they also provide a great user experience for clients and help connect businesses to the public in a way that previously could not be achieved! This a great way to build a brand name and the proof is in the pudding – the majority of the outstanding brands in each industry have at least one app to support their brand!
Here we will explore how mobile applications have benefited the construction industry in particular. By taking a look at some of the big players out there in the construction industry, we will look at how apps have helped them in their success!
Mitie
The company Mitie, which provides a range of specialist services, has invested in creating the app CRiTEN for their employees. This app helps the employees view their shifts and log their time at work. The app makes the booking on and off changes a simple procedure for the employees.
On this app, employees can also report any problems they notice, which massively facilitates this process. Without having an easy platform to perform such tasks, employees would have to report problems either via telephone, email, or involving paperwork, however, by allowing an app to do this, employee time is freed up, which no doubt increases productivity for the company too!
ISG
To give users a glamorous and modern image of the company, ISG has developed an app (Explore ISG) that allows you to take a walking tour around projects they are currently working on. This app demonstrates their professional ability to potential clients, bringing in more business for them, and it is also a great way to keep existing clients updated on the progress of their projects.
Kier Group
Kier has many apps, ranging from an info pack about the company to a directory allowing people to connect with the company. 'Kier MIRP' which provides instant information to incident reporting within the company is another one of their apps that helps inter-company communication to flow with ease! Every process made more accessible by using an app means that employees have more time to be productive in their work.
Morgan Sindall Group
To help them effectively manage the company's resources located at or en route to the property of clients, Morgan Sindall created an app that allows them to do just that! This app means that all resources are easily traced, logged, and recorded, and consequentially, losses or mistakes are a lot less likely compared to using a paper-based system to keep track of this. This is an app that would be handled internally amongst employees.
Amey plc
The Amey App allows explicitly the Amey engineering team to log in, select their site location, and log their survey reports. This allows easy access to reports should they need to be checked, and makes the process a lot easier for the engineering team to complete.
This kind of app could potentially be used for any team which would benefit from it.
Costain Ltd
On the Google Play Store, Costain describes their app as a 'solution for commissioning and various business functions across sectors'. Apps can be used for pretty much any use your business can find, as Costain demonstrates here! The app also allows users to operate offline in zones with no connectivity, meaning that employees can still be productive with this app, even when they cannot connect.
Laing O'Rourke
Laing O'Rourke boasts a wide array of apps. One of them is an interactive app that allows people to be involved in the process of construction and express their views on it. Another allows the public to keep up to date with project information, which is a great way to boost your public image as a company. This is also great for getting your brand out there on the market.
They also have an app especially for staff to keep up to date with company information and news, and this app provides a directory of global Laing offices. This app allows the company to connect with and contact their employees on a large scale with the very minimal effort needed! It also means that employees can access information even when they are out of the office!
Carillion Plc
Carillion allows drivers to record their hours and vehicle pre-use check, all done through their apps. This is used instead of the existing paper-based process which is much more time-consuming! By submitting all of the information to an app, the data is easily stored and accessed, meaning this information is easy to find again if needs are, rather than rooting around through drawers for old paperwork!
Other uses Carillion has found in apps are giving employees a platform on which they can speak out about unsafe acts and conditions and one which records time their staff spend doing volunteering activities. Carillion demonstrates that the possibilities are endless!
Balfour Beatty Group
Balfour has apps that allow them to gather data by recording assets and locations. Having an app that records places can be beneficial when working in the construction trade, as this helps to log the site location of the user quickly. Balfour Beatty also boasts a VR app for added user experience and professionalism. This is a great way to show off what your company is capable of to potential clients!
So there you have it – some of the biggest players out there in the construction industry, and how they use apps in their businesses! These apps are can either be used internally to help ease processes at work and for logging data, or they can be used externally to promote the company and support communications with clients and with the public. Whatever industry you work in, apps can be handy for helping your business progress to the next level!
Google Play Store links:
https://play.google.com/store/apps/details?id=com.mitie.CRiTEN
https://play.google.com/store/apps/details?id=com.isgplc.digitalcatapultcentre
https://play.google.com/store/apps/developer?id=Kier+Ltd
https://play.google.com/store/apps/details?id=com.ontaap.morgansindall
https://play.google.com/store/apps/details?id=uk.co.amey.ameyapp
https://play.google.com/store/apps/details?id=com.ionicframework.blankside143516
https://play.google.com/store/apps/developer?id=Laing+O%27Rourke
https://play.google.com/store/apps/developer?id=Carillion+plc
https://play.google.com/store/apps/developer?id=Balfour+Beatty+Group
iTunes links:
Kier – https://itunes.apple.com/gb/app/kier-connect/id993829293?mt=8
Balfour Beatty – https://itunes.apple.com/gb/developer/balfour-beatty/id950612636
Laing O'Rourke https://itunes.apple.com/us/developer/laing-orourke-pty-ltd/id875668508
Costain – https://itunes.apple.com/gb/app/costain-o-g/id1144521820?mt=8
Loved this article? Please like and share!
If you have insights about the article/infographic, please leave a comment below. Please don't forget to follow us on Twitter @OverpassApps and Instagram @overpassapps and like us on Facebook.