An Overview of the Korean Language
Korean is the official language of both North Korea and South Korea. It is also recognized as an official language in one part of the People's Republic of China and some areas of Japan. It is reported that around 78 million people speak Korean, and this number is continuing to grow.
The History of Korean
There are a number of stages in the history of the Korean language, consisting of;
Pre – 1st Century: Proto-Korean
1st – 10th Century: Old Korean
10th – 16th Century: Middle Korean
17th Century onwards: Modern Korean
The 17th Century saw a standardisation of the modern language. A number of subtle differences have developed since the split between North and South Korea, but the modern language remains very similar.
Interesting Korean Language Facts:
The official spelling of "no" has changed twice.
Korean words often have several completely different meanings, all determined by context.
Compared to other massive languages in the region, the development of Korean has been extremely "isolated".
The word "Korean" is derived from Goryeo, which is apparently the first dynasty known to Westerners.
Taekwondo is a Korean martial art.
Learning Korean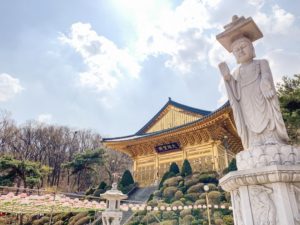 The increasing influence of the Far East nations in terms of economy and culture has ensured that Korean is a much-learned language across the globe. Whilst there are certain negative connotations associated with the Communist North Korea, the South still remains a popular holiday destination and a hub of global business. Hosting the 2002 Football World Cup brought South Korea to the attention of billions across the world, further enhancing their reputation as a people and demonstrating how fine their nation is.
Learning Korean with Overpass Apps
Overpass aim to make all of our language learning apps challenging but rewarding to the user. Our Korean learning apps are designed to be enjoyable, allowing you to have fun whilst improving your understanding of Korean at the same time. Our range includes Korean Bubble Bath and Secret Agent: Korean. Both are fun mobile games available on iPhone and Android, and provide a great addition to any learning program. It is important to relax and apply your new found language skills in an enjoyable yet productive way, and we're proud to present this opportunity with our range of mobile apps.
Discuss your Idea
You can also contact us by filling in our web form.We would love to hear from you.