I read about one book a week. It's a habit I started back in the early 2000s. Over the years, I've read thousands of them. And I rarely read fiction.
I'm a firm believer that you can learn anything and become anyone just by sticking with a topic until it clicks. I've talked about this many times in my videos, but I learned to program from reading. I started lifting weights, meditating, creating videos, etc, because I've read books about how to perform a task. Don't get me wrong, practice and application are vital—but it's learning via books that have really started me out when I was completely lost.
There is a cliché that most people don't read when they become adults. But I find it to be true. So many people learn on the job and just stick with what they need to do at the moment. But a true professional is always looking for the next idea or the next skill in front of him.
So, I've read thousands of books. Some of them are really good, but most suck. Most business and personal development books are filled with derivative drivel that is taken from other books. They are created by authors who quote others so they can have a book as a calling card.
But some books really stuck with me. They changed the way I looked at the world and gave me new insights into how things work. This page lists some of those books and why they are important to me.
I divided them into several sections: Business, Self-Development, Computer Programming, Audiobooks, and biographies. Many of these are affiliate links, so if you use the links below, I get a commission. But feel free to find them on your own, check them out from a library, or whatever.
Business Books
I read too many of these. As I said, most business books have one or two good ideas and are mostly filler. Some are written by wanna-be coaches who compile ideas from others but seem to have no experience of their own. Here are my favourites.
This is by far the business book that has had the most impact on my way of thinking. Prior to reading this, I considered myself an entrepreneur because I had my own company and was working it. This book showed me how wrong I was.
Most small businesses fail because of the way they go about things and their lack of processes. The E-Myth Revisited goes through the turn-key McDonald's model of business.
Some key takeaways are:
— You need to define roles and procedures.
— You are not your business and your business is not you.
— You should always consider your business as something you are going to sell– even if you don't ever intend to. As Gerber says (paraphrasing) "If you decide to keep it instead of selling it, then you're the one who bought it".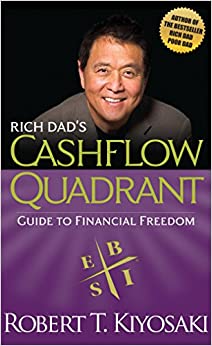 This is another book that changed how I looked at business ownership. "Rich Dad, Poor Dad" had a big effect on me as it did many others. But it was the Cashflow Quadrant that really changed how I looked at things. In this book, Kiyosaki goes into detail about the EBSI quadrants. I'm currently an "S", but I long to be a "B".
There are tons of Rich Dad books out there. But this one, in my opinion, is by far the best.
In a world of sameness, your business has to stand out. It has to be remarkable. The title of this book comes from Seth Godin's experience driving with his family through the country. The excitement of seeing cows for the first time quickly faded when they all looked the same. They were easy to ignore. But if there were a purple cow, now that would be remarkable.
I'm a huge Seth Godin fan. I've read many of his books (Linchpin is another favourite). But this book, Purple Cow, is something I think about all the time.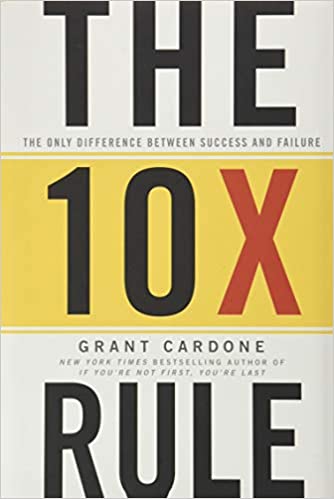 I discovered Grant Cardone pretty early. He's huge now. Before he had the jet and when he had a much smaller social media following, he wrote the 10X rule. In fact, I started doing my video daily for a while because of this book. The core premise is that we all underestimate what is needed to be successful, so we need to put in 10X the effort.
These days, I'm hot and cold with Grant. I've seen him live once. I used to be a raving fan. But whenever I'm feeling lethargic and lose my way, I come back to this book. No one can criticise (and few can match) this man's work ethic.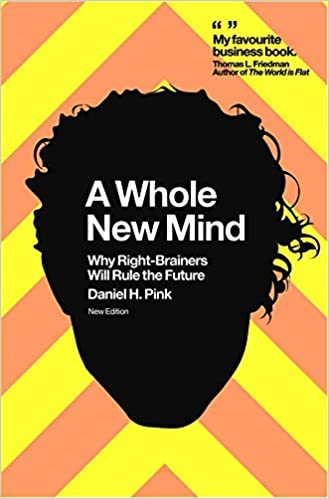 Dan Pink has written some great books (including "Free Agent Nation" and "Drive") but "A Whole New Mind" changed how I thought about things. He makes the case for the need for left-brain thinkers in the new economy. I read this back in the early to mid-noughties– when it was only in hardcover, but it is still relevant.
Pink talks about the 3 forces of Asia (outsourcing), Abundance, and Automation as making many right-brain jobs irrelevant. Left-brain thinkers (creative types) will rule business.
He also goes on a lot about mazes towards the end. Okay, that part was strange.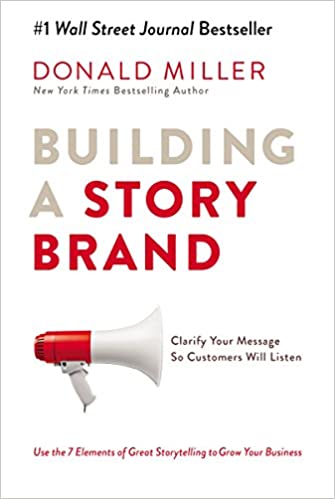 This is one of those books I listened to as an audio book and loved it so much I needed to get a hard copy. Lots of great diagrams and tasks. Miller talks about your business story.
So many businesses market about how great they are. It's all about them. But, Miller argues, it should be about your client/customer. You are not Luke Skywalker– you are Yoda. Your client is Skywalker and you can help them achieve what they want. And that's how you should market.
This is a bit of a business fable that I read back in the early 2000s. It was an interesting story about a guy who finds a guru on the beach in San Diego (I also loved the SD connection) who helps him succeed with LEAP (Love, Energy, Audacity, and Proof) and become an extreme leader.
But the coolest concept of this book is the OS!M (the "Oh, sh*t!" Moment) when you fully 100% committed to a task. I love this book.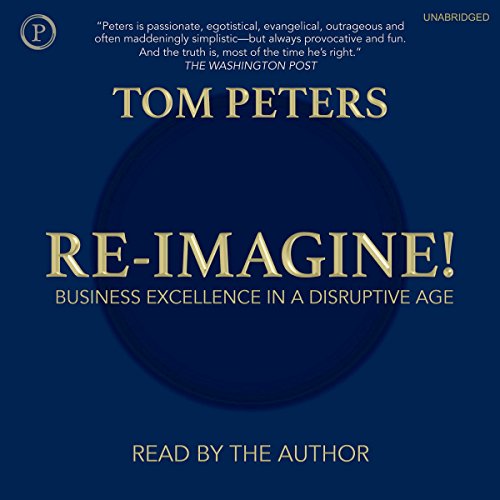 I read this book when it first came out. It's like a kid's book and very colourful. But Tom Peters takes a lot of the stuffiness out of business. He champions those who do things differently and swing for the fences.
This book may have got me in trouble a few times when working for small companies. I wanted us to be bold, but the owners (understandably) wanted to play safe.
This book may have got me in trouble a few times when working for small companies. I wanted us to be bold, but the owners (understandably) wanted to play safe.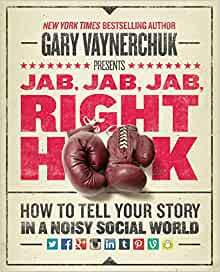 I'm a GaryVee fan from time to time. Like with Grant Cardone, I go hot and cold. But, while this book is very tactical and some things might be out of date (I'm not sure), the core concept is so elegantly made.
So many businesses go on social media and immediately try to sell (the right hook). Others, just jab and never sell (I'm probably in this category). But you need to balance it right. You can't build an audience if you're always trying to get things from them.
I want to recommend this to so many people who come to me for video advice. They are looking for the final result– the ROI. But they need to build trust first. They need to build their audience before they start asking for things. I think this is why so many businesses get social media wrong.
I will readily admit that I am a terrible salesman. I try to be better and I read a lot on the subject.
This is one of the rare books that I have on Kindle, Audible, and paperback. It's a great one to pick up and thumb through. It's not just about sales, it's about presentation, state, and tonality. I may not be much of a salesman, but I try to practice tonality and state management in my videos all the time.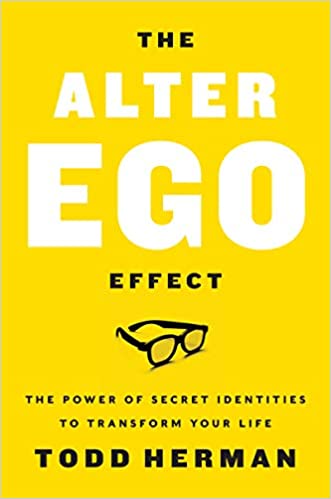 I suffer from imposter syndrome just like everyone else. I might be doing a video and suddenly remember how self-conscious I am. Or, even worse, in a meeting with new clients.
In "The Alter Ego Effect", Todd Herman talks about using your Alter Ego for different situations. Several famous people (like Beyonce) do this. The author himself wears glasses when he doesn't need them.
I started using this myself. I have accepted a new persona for videos, for client meetings, and for just being a developer.
Self-Development (Self-Help) Books
I used to get a lot of grief about reading these books. Very often I would read them in secret. I used to find it difficult when I tried to read a book on a train or while waiting for a meeting to start and people would try to make small talk with "what are you reading?" For this reason, the Kindle is perfect.
Self-Help books can be addicting. I know I've read far too many of them. But here are the best ones that have had a profound impact on me. Not all of them have to do with business. Some are about masculinity, weightlifting, or sex. But I'm sharing them all here.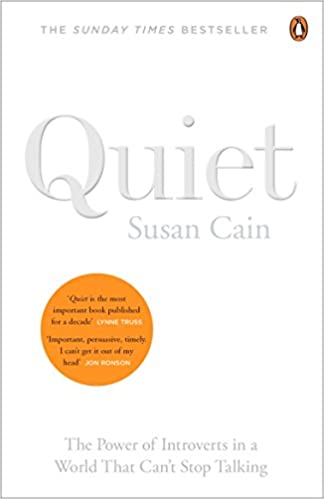 I can't say enough about this book. I wish it was around when I was a teenager.
I feel like I spent so many years feeling like there was something wrong with me. I was the quiet kid in school. Everyone says this, but it was almost impossible. I always felt I didn't belong.
And this feeling still lingered in my twenties and thirties. I'm a quiet guy. I'm not the confident person who is the center of attention wherever I go. I am terrible at networking meetings, parties, or anywhere where lots of people gather. And when I had to give a software demo in front of a group of people, I'd pray to get into a traffic accident on the way into work– nothing serious, just something to give me an excuse not to do it.
I hated the word "shy". I got tired of people telling me to ask lots of questions even if I didn't have any. I hated people telling me I should just be myself when that's what I was doing all along.
I always assumed I was just defective. This sounds dramatic, but it's true. And a lot of people feel the same way.
I first listened to "Quiet" as an audiobook and then read it. The author talked about so many things I too had been feeling. In fact, most people consider themselves introverts and struggle in the world of extroverts.
Now, I'm happy to take on an extrovert persona (as in "The Alter Ego Effect" above) but I'm very comfortable with my own company and being on my own. There are a lot of people out there who feel the same way as I do– but they obviously won't say it :-).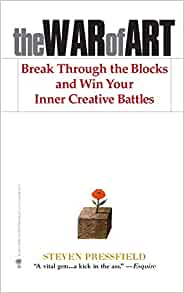 This book gets quoted a lot in other books. And even more, books take the concept of "The Resistance" and pass it off as their own. But this book by Stephen Pressfield is where it started.
This is a collection of short essays (I'm not sure if that's what you would call them) about creativity and the Resistance.
The Resistance is what stops us from doing anything creative. It never goes away. You are always up against it.
I've been to one "Unleash The Power Within" seminar and have watched so many Anthony Robbins videos. I bought the audio series too. These can be costly and there is a lot of repetition (and upselling).
But you can find all the concepts of these videos, audio programmes, and seminars in this one book. Tony Robbins hasn't written very many books, which is surprising, so he has stayed very consistent with his principles and lessons. They are all in this book.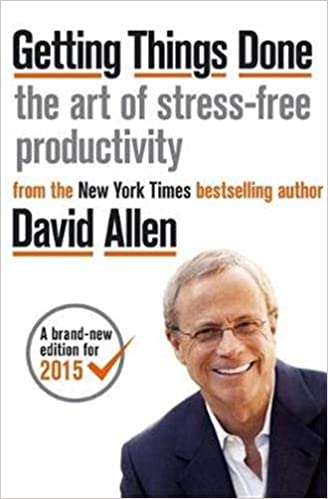 Who doesn't want to improve productivity? I'm constantly fighting stress caused by having too many tasks demanding mental energy at the same time. This book was one of the first that I read that made lists and "ubiquitous capture devices" a part of my daily life.
And I totally fall off the horse when it comes to these concepts all the time. I spend too much "mental RAM" on things I can't do at the moment. So I revisit this book a lot.
Beware, this one is dated. He talks of filing cabinets and manila folders.
This book was everywhere for a while. And Eckhart Tolle always seemed like a guru to me. But the concepts of this book are still very solid. There is no past. There is no future. There is only right now.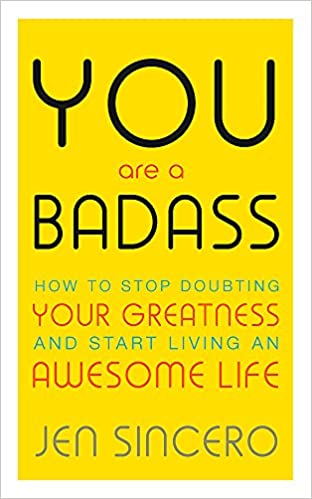 I have read an embarrassing amount of "Law of Attraction" books. I think I read every Abraham-Hicks book and the Secret books. But this one by Jen Sincero is very cool.
It's not just about LOA (that's a small part of it) and is more about reaching potential. And she is hilarious with her stories and style of writing.
I find I quote her a lot in the videos. My favourite quote from her is… and I'm paraphrasing.. "Imagine Metallica never bothered to learn to play music because they knew they could never be as good as Mozart." There is so much we have in our heads that stops us from starting something or limits us from doing more. I love this book.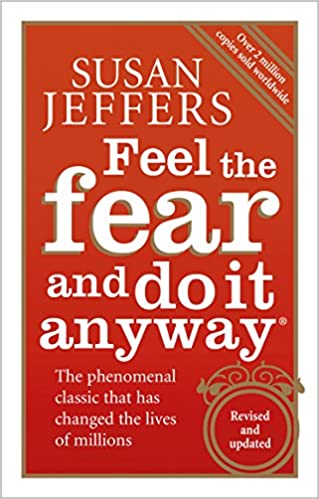 This is the first audiobook I ever listened to. And I have very little in common with the author. She talks about a bad divorce and how she had to find herself again.
But the concept that has stuck with me (and probably always will) is "no matter how bad things get, you can handle it. You always do." When I find myself afraid of starting something and thinking of worst-case scenarios, I remember this. The future me will be more capable of handling these problems than I ever will be.
This book is about strength training. I read it and started going to the gym. I was a runner for years and never saw myself as a "gym guy". I was intimidated by how much I would have to learn to go to the gym. But this book is awesome.
I've kept to this routine for years. And it has helped me with dating and getting looks. Nothing to do with apps or anything else, but definitely changed my life.
As a man, I've never thought very much about masculine and feminine traits. I assume we are all the same at our core. But this book challenged me to look at things differently. We all have our feminine and our masculine sides. I think about things (and personal relationships) differently since I started reading this book.
Computer Books
I've read a lot of computer books. I wouldn't be where I am without some of them. However, they date very fast. I couldn't really recommend "Visual Basic 5 in 21 Days"—even if that book single-handedly changed the trajectory of my life, but it's out of date. Also, many computer programming books are invaluable but don't contain anything you can't find online from other sources. So, this list identifies some of the higher-level books which talk about programming from a conceptual level rather than "how to code" books.
Audiobooks
I'm old school, I think. So I still don't feel comfortable saying I "read" audiobooks. But I've listened to them a lot. I have had my two-book-a-month Audible plan since 2003. And I have over 300 audiobooks in my library. Some of them are really good, many suck, and others don't transition well from text to audio. Still, others work better as audio books.
Some books work better in print. Others work better as audio.
Here's my list of favorite books that work best in audio form.