If there's one thing we love more than apps, it's different cultures. We have a tonne of language games helping people learn languages from all over the world.  In this series, we look at some of the locations that fascinated us so much that we created language games for them. They are helpful for students, teachers, and travelers.  In the last article of the travel series, we looked at Sweden. This time, let's take a look at Thailand.
Thailand or the Kingdom of Thailand is a country at the centre of Mainland Southeast Asia. It is the 51st largest country, and its economy ranks as the 20th largest by GDP. Thailand is also one of the most traveled countries because of its attractions like diving sites, trekking areas, and nightlife experiences.
Here are some other reasons why you should plan a trip to Thailand:
Monkey Buffet Festival
Witness the Monkey Buffet Festival in Lopburi Thailand where fruits and vegetables are given to monkeys. It is an annual bizarre tradition to thank the monkeys for helping the Thai improve their economy.
Floating Markets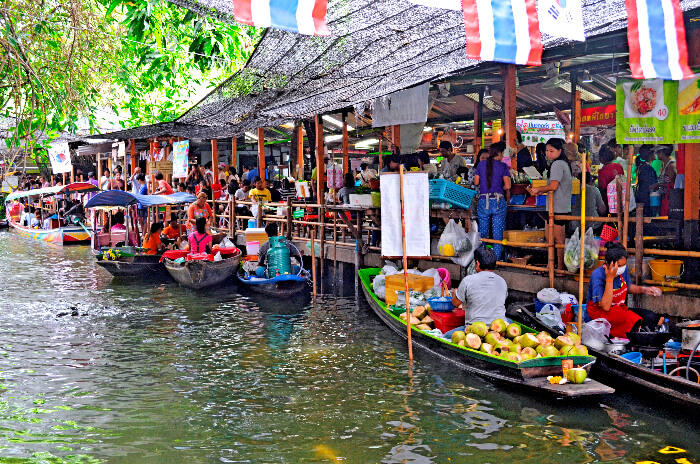 If you want to experience riverside shopping, then you can find more of that in Thailand where you can buy any goods available in a market from traders in boats.
The Big Buddha of Thailand
The Big Buddha of Thailand is the 9th tallest statue in the world which is 300 ft high and 210 feet wide. It was constructed in Ang Thong Province in 1990 and was finally completed in 2008.
The Erawan Falls
The Erawan Falls is named after the three-headed elephant from Hindu mythology because it resembles the Erawan. It is Erawan National Park's major attraction in western Thailand.
Thai Cuisine
If you love aromatic and spicy food, then you will definitely enjoy the Thai cuisine. No wonder it is one of the most famous cuisines in the world.
Now, that's what they call "Amazing Thailand". There's so much more to explore and experience in Thailand. However, before you book that flight, don't forget to read more about their culture, climate and language so you can understand them better and you can have a more enjoyable trip.
Overpass Apps features Thai Language Learning apps which can help you learn Thai fast while having fun. Here are the links so you can download them for free.
Learn Thai with this fun and engaging game. With Thai Bubble Bath, simply pop the bubbles by selecting and choosing its translation. As the levels get more complicated, you have to use your new knowledge to determine the word.
Learn Thai with a game from the International Language School for Secret Agents! You will be presented with 12 categories focusing on different areas of the language– ranging from numbers to phrases. Each category has 10 levels that you should master. Keep working at them until you become proficient.
Thai Spy: Bangkok Ops is a language learning game that introduces a unique approach to learning the Thai language. Learning new words and phrases has never been this much fun. Download this game now and be shocked at how much you can learn while you're having a good time!
Try them all and see which one could be your favourite. Let us know your app experience by leaving a review.
Enjoy your trip to Thailand!
เพลิดเพลินไปกับการเดินทางสู่เมืองไทย!
If you have insights about the article, please leave a comment below.
Please don't forget to like us on Facebook, follow us on Twitter & Instagram,  and subscribe to our YouTube channel — A Minute Of Overpass.