An Overview of the Thai Language
Thai is also known as Siamese or Central Thai. It is recognised as the official language of Thailand. Thai belongs to the "Tai" language family, which is an offshoot of Kadai or Kam-Tai. Some prominent linguists currently regard Kam-Tai as a branch of Austro-Tai, but this idea is somewhat controversial and unproven.
There are varying regional dialects of the Thai language, but all stem from the same place. Most areas that speak a different variant are also able to speak standard Central Thai. In Thailand, it is estimated that over 80% of residents speak a version of Thai, making it by far the most popular language in a country of over 60 million inhabitants.
The History of Thai
Modern Thai is said to have originated in the region around Vietnam and China, because the language is closely connected to some other languages spoken in Northern Vietnam. Over the centuries, Thai adopted some words from Indian (Sanskrit & Pali) dialects as well as some Chinese, due to the large amount of immigration in the area. It is said that these languages had a similar role in the evolution of Thai as Latin did for the development of the English language over time.
Interesting Thai Language Facts:
The Thai state was established in 1238 in Sukhothai, which is now a city and province. Later in the 13th Century, Buddhist King Ramkhamhaeng embarked upon a mission to expand Thai institutions, and he also initiated standardisation of the modern Thai alphabet. Over the following centuries, 1350 – 1767, there was a significant evolution of modern Thai language, with Sanskrit & Pali words being borrowed and absorbed.
The welcoming nature of the Thai leaders and the Thai people helped the country develop some diversity and simultaneously, their language adapted to follow suit. In more modern times, King Rama 4 (1804-1868) and King Rama 5 (1868-1910) were strong in keeping the powerful western empires at arms length by engaging in diplomacy, and at the same time giving away huge areas of valuable land to some would-be invaders, including the British.
Learning Thai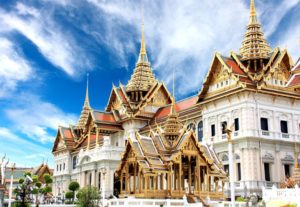 There has been an increase in people across the world wishing to learn Thai. A booming tourism industry and the attraction of Thailand as a travel destination has ensured that the Thai language is becoming more and more popular.
To the right are some handy tips on the phonetic tones on smooth syllables in the Thai language, courtesy of the Center for Southeast Asian Studies at Northern Illinois University. >
Everybody has different methods of learning a new language, but the best way is to really immerse yourself in what you learn. If you get the chance to speak, read, and write in your new language, take the opportunity when you can.
Some useful phrases:
Welcome – yin dee dtôn ráp (ยินดีต้อนรับ)
Hello – sà-wàt-dee (สวัสดี)
Goodbye – laa gòn ná (ลาก่อนนะ)
Thank you – kòp kun (ขอบคุณ)
Learning Thai with Overpass Apps
At Overpass we wish to make learning languages as fun as possible, so we have created a number of applications that will hopefully let you learn Thai in a way that suits you. They are all challenging games, but they also provide you with the added entertainment value, helping you to progress with your Thai quickly.
Discuss your Idea
You can also contact us by filling in our web form.We would love to hear from you.