Do you still remember him? Who wouldn't remember Wall-E?
The trash compactor robot who longs for a companion and love.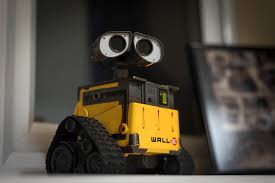 Wall-E is a computer-animated science fiction movie released in 2008 which was produced by Pixar Animation Studios and distributed by Walt Disney Picture. The film criticises consumerism, waste management, human environmental impact, obesity, and global catastrophic risk. It was an instant blockbuster that earned $533.3 million worldwide.
One thing that interests me about this movie is the Wall-E chair or the hovering chair. Each passenger aboard the Axiom has one which functions as a stable platform for their travel and a connective device for their social life. It can be a beach-side deck chair or an assisting device for disabled persons so they can still participate in sports and other activities.
However, the Wall-E chairs have disadvantages like unable to help once its passenger has left the chair's seat, and it promotes obesity because passengers tend to use it often and become lazy in doing some exercises or taking a walk.
But still, the thought of having that hovering device that can make my travel convenient makes me feel excited and wonder how long will it take for that one to be available in the market.
Well, who knows? I just really want that Wall-E chair!
So just like how they say it, "Shut up and take my money!"
If you have insights about the article, please leave a comment below.
Please don't forget to like us on Facebook, follow us on Twitter & Instagram,  and subscribe to our YouTube channel — A Minute Of Overpass.